About Craig
On the morning of Sunday March 20, 2011, the Fond du Lac Police Department received a complaint from a young woman that she had been sexually assaulted. She told officers that she feared her six year old daughter was still in the house with the suspect of the assault. Officers responded to the residence to check the welfare of this child and to speak with the suspect in the complaint. They were unable to make contact with the child or the suspect as no one would answer the door.
Out of concern for the child, officers made entry to the residence with consent and using a key provided by the victim. They entered the house and began searching for the child. While doing so, they encountered the suspect who was hiding in the dark and opened fire on them with a .308 caliber rifle. Officer Ryan Williams was shot twice causing him to fall down a flight of stairs. In the process, he also fell into Officer Zach Schultz knocking him down and injuring his arm. Captain Jon Gutzmann was able to get both officers to their feet and ordered them to exit the residence.
Officers on-scene called out via radio that there were shots fired and an officer was down. Hearing this radio traffic, all available officers began responding to the area including Officer Craig Birkholz. Without hesitation, Officer Birkholz quickly responded to the call for assistance and was one of the first squads on-scene. He approached the area from the north and at risk to himself positioned his squad car to keep other traffic and people from entering this dangerous area. After doing so, he retrieved his rifle and began moving on foot to help the other officers on-scene. As he made his way toward them, Officer Birkholz took fire from the gunman. He was shot twice and died at the scene.
There are two great things about the field of Law Enforcement. One is the camaraderie that exists among officers. There is no denying the strength of the bonds that are made among people who put their lives in each others hands every day. The second is the Code of Honor that all officers live by. That code is to be there for each other no matter what. This includes being willing to give up your life for someone else if necessary. On March 20, 2011, Officer Craig Birkholz did just that. He gave up his life. He gave it up with honor for the officers on-scene that day. He gave it up for the men and women of the Fond du Lac Police Department. He gave it up serving the citizens of Fond du Lac.
In the Bible it is written:
"No one has greater love than this, to lay down one's life for one's friends" John 15:13
Written by Captain Steve Thiry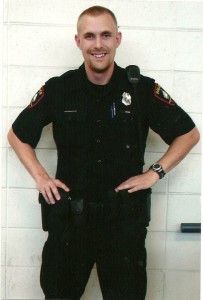 What You Should Know
NAME:
Officer Craig A. Birkholz
Badge: 67
1982 – 2011
OCCUPATION:
Police Officer for the
Fond du Lac Police Department
END OF WATCH:
March 20, 2011
FAMILY:
Wife – Ashley Birkholz
Parents – William & Gay Birkholz
Brother – Paul Birkholz
In-Laws – Rick & Maryann Czarnowski
COLLEGE:
UW-Oshkosh
MILITARY DUTY:
US Army, 511th Military Police Co.
Afghanistan and Iraq
PERSONAL MOTTO:
Stay Strong, Stay Safe, Stay Positive