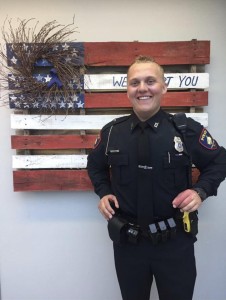 A Law Enforcement Scholarship Fund in memory of Officer Craig Birkholz has reached an important goal, as it is now self-funded.
In the weeks following the line of duty death of Officer Birkholz on March 20, 2011, several members of the Fond du Lac Police Department organized the Birky Challenge, an annual bicycle ride to fund a law enforcement scholarship in Officer Birkholz's memory.
This ride, which features up to a 67 mile route, has occurred on the Saturday after Memorial Day since 2011.
To date, seven scholarships of between $2,000 and $3,000 have been awarded, with three of the recipients achieving employment in law enforcement so far.
"This amazing community came together during that tragic time with incredible caring and support for our family and for the police department. We are forever grateful for that and for the continued support of the community with the annual Birky Challenge Scholarship ride in memory of our son, Craig," reflects Officer Birkholz's mother, Gay.
Officer Jake Randall, of the Fond du Lac Police Department, was motivated by receiving the scholarship in 2015, stating, "This scholarship helped push me to become a better officer, starting with physical fitness. Through my fitness journey, I became a stronger and more capable officer, both physically and mentally. I couldn't be more proud to work in my hometown and to have an impact on our city every day, living our department's mission."
Historically, the Birky Challenge attracts between 225 and 300 riders and is also sponsored by several local businesses. Resulting from past successes, future proceeds of the ride will benefit various law enforcement and military veterans' charities. Officer Birkholz was an Army veteran as well.
This year, The Wisconsin Riders Police Unity Tour, which raises money to add on to and maintain the National Law Enforcement Memorial in Washington DC, is one of the charities supported. The memorial is funded strictly by private donations. Officer Birkholz's name was enshrined on the memorial in 2012, joining the names of over 20,000 slain officers.
Current and past members of the Fond du Lac Police Department have participated in the 320 mile bicycle tour that is the largest fundraiser for the National Law Enforcement Memorial.
Also receiving funds will be Wisconsin Chapter of Concerns of Police Survivors, which provides support to fallen officers' families and loved ones through yearly events. Officer Birkholz's mother, Gay, has been involved in this organization for many years.
The final recipient of proceeds from the 2018 Birky Challenge is the Wisconsin Injured Law Enforcement Officer's Resource Council. This organization provides support for officers injured in the line of duty.
This year's Birky Challenge takes place on June 2nd, 2018.